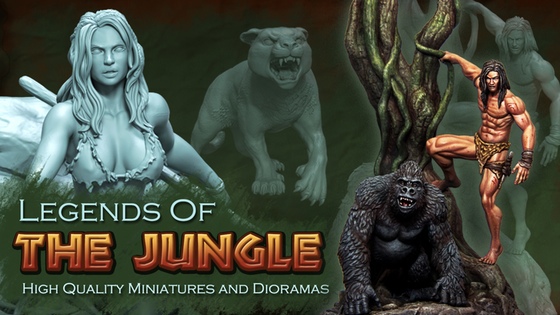 Legends of the Jungle
Created by The Legends of the Jungle Team
Legends of the jungle is a project to create a new and special line of high quality 75 mm and 54 mm scale characters and animals.
Latest Updates from Our Project:
Christmas Greetings
almost 7 years ago – Mon, Dec 26, 2016 at 08:08:02 AM
THANK YOU – Legends of the Jungle campaign is completed!
almost 7 years ago – Thu, Dec 08, 2016 at 11:50:19 AM
Hello Dear Backers!
We did it!
We completed our campaign and reached funding. In the coming days and weeks you'll be hearing more about what comes next.
We will be updating you on the tools we'll use to survey and handle your pledges and their content. You will be also informed about every important aspect of the remaining steps of production and delivery. We are committed to providing you with outstanding quality of our product and all related services.
We thank you once more for believing in our project and we wish you a great holiday season with your friends and family.
We will be very happy to deliver your pieces as soon as possible.
See you in the Jungle!
Cheers,
From the entire LOTJ Team
FUNDED!
almost 7 years ago – Mon, Dec 05, 2016 at 03:42:05 PM
 In case the header doesn't say it well enough, thank you!  We're there and it's all thanks to you.  We've now unlocked the ability to take these into production and to provide you with the .pdf painting guides by Francesco and Roman.  They will be pretty awesome, we're sure!
Roman has already started working on his version and if you follow him in facebook you might get some sneak peeks when he posts updates.
Still, we're not done yet.  There are still some stretchgoals to reach and it would be amazing to reach the third diorama stretchgoal, don't you think? Help us make that happen by continuing to spread the word.  Lets see how much more we can achieve in the coming days!
Nearly There! – Campaign Update # 5
almost 7 years ago – Sun, Dec 04, 2016 at 10:27:35 AM
Hello Everyone!
Only 3 days left and we are nearly there.
92% - Our funding goal is almost reached.
We really appreciate your commitment. Please help us to cross the finish line. Spread the word to make this new miniature line come true.
Best wishes to all of you
The Legends of The Jungle project team
Painted Dioramas 360° View + A Look Behind The Scenes
almost 7 years ago – Sat, Dec 03, 2016 at 02:20:55 PM
Hi everyone!
Welcome to another update.  We're getting pretty close and we're gearing up for the end of campaign spike.  If you're familiar with Kickstarters you'll know that most campaigns get the bulk of their pledges at the start and end of campaign.  We are pretty confident that we'll have a pretty nice uptick of pledges in the last few days so hang in there with us!
In case you didn't see it already, we updated the front page of the campaign with this little clip here.  It's a turntable of both our dioramas in all their painted glory, courtesy of Francesco who did an outstanding job on these:
Here are some shots of the painting process.  As our backers you'll get access to .pdf guides and more material to assist you on achieving a great looking piece:

We've also created a video showing the fur sculpting process.  It is more of a zbrush tutorial for people who do digital sculpting and have some knowledge of zbrush, but it might also be interesting for some of you to see a bit of what goes into sculpting these figures.

Hope you're having a fantastic weekend and we look forward to the coming week.  We'll reach our goal with your support!
Yours Truly,  
The Legends Of The Jungle project team